Course details
【1,500 yen】 "Including the most squeezed draft beer" (Over 110 species) 【All you can drink as ordinary】 + 2 hours only Reserved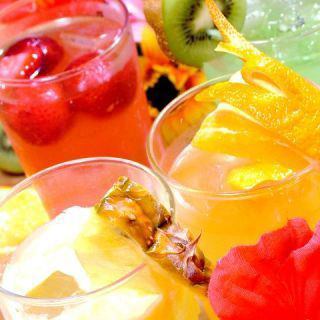 All-you-can-drink available

All-you-can-drink all-you-can-drink from non-alcoholic! ※ Details will be part of 1500 yen.
Available days for reservation

Monday - Sunday - Public holidays - Holidays
It is perfect for girls' organizers, casual drinking party, second party etc. OK! On Saturday, we can relax with confidence until the last train at Sendai station's best location! Information for private rooms OK! (For 2 to 16 people) Of course not only draft beer, about 30 kinds of sour cocktail, Gordon tonic, 15 types of highballs and content full content !!
Course menu
※ All you can drink private drinks including draft beer and original cocktail.
recommendation
Shandigafu Cassisvia, Cokebia
Docks Nose
Popular fruit wine
Angel wine alcohol cool apple
Mingle orange sake breeze orange
Strawberry wine chillier strawberry (Come by soda)
Salmon cocktail
Samurai Rock
Saketi II
Distilled spirits
Wood grain blue
Satsuma trees
Depending on the season, the type increases or does not increase
Please ask!
All-you-can-drink menu
Beer-hoppy
· Kirin's first squeeze (medium · large · pitcher) / giraffe free (bottle) / hoppy white · black / kinmiya distilled spirit
· Sour · Shochu about 20 species
· Oolong Hi / Orekal Sour / Umeboshi Sour / Calpis Sour / Cork Sauper / Sequacer Sour / Happy Summer High / Raw Kiwi Sour / Lemon Sour / White Peach Sour etc
Shochu
· Ichiban (potato) / Kanono (potato) / White water (wheat) / Fluffy Mirror (Yuzu · Umi · Lychee) Sweet potatoes (potato) / Sawdust blue (potato)
· Sake, plum wine
· Sake sake 2 (cold · hot heat) / Hanamizuki Dryuchi / Onura super spicy / Very plum wine / Plum wine finished in brandy / Plum wine crucial / Plump plum wine / rich plum wine / cool apple / cool apple strawberries / cool mikan
Wine wine ball
· Mercian (Red · White) / Frontera Cabernet · Rosé / Red Ball / Roseball / White Ball
· About 12 types of cocktails
Cassis soda / Cassis Oolong / cassis orange / cassis Ginger / cassis milk / Peach spark / peach ginger / reggae punch / Fuzzy Navel / Peach Black / Peach milk
· About 5 Gordon & Tonic
· Gordon tonic / Gordon back / Gordon Orange / Gordon Blue / Gordon Cork
· About 15 highballs
· Fuji ball / Fuji Cork / Fuji Ginger / Fuji raw lemon / Fuji berry / Red rose ball / Rose ginger / Barracoam / Rose raw lemon / Barrabery / Johnny ball / Johnny Cork / Johnny ginger / Johnny raw lemon / Johnny Berry / Black Nikka Highball
· About 7 kinds of non alcohol
- One Night trouble / chameleon / Angel / Devil / paprika peach / Cutie Honey / deep sea
·Soft drink
· Orange Juice / Ginger Ale / Calpis / Calpis Soda / Melon Soda / Coca Cola / Oolong Tea / Topping Float
Coupons that can be used with this course
2018/09/25 update